Location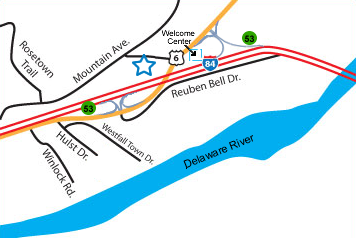 Located in Matamoras/Westfall Township, PA 18336 off Mountain Avenue in Pike County, PA, this site is less than 1½ miles from Orange County, NY and Sussex County, NJ.
Its next to the PA Welcome Center with direct access from PA Routes 6/209 and Interstate 84 at Exit 53, which is the first and last exit in PA, and is 1¼ miles from the train station to the metro areas of NJ, NY and NYC.
Its approximately 50 miles from Scranton, PA, Rockland County, NY, Morris County, NJ, and 70 miles from New York City.